Deviated Septum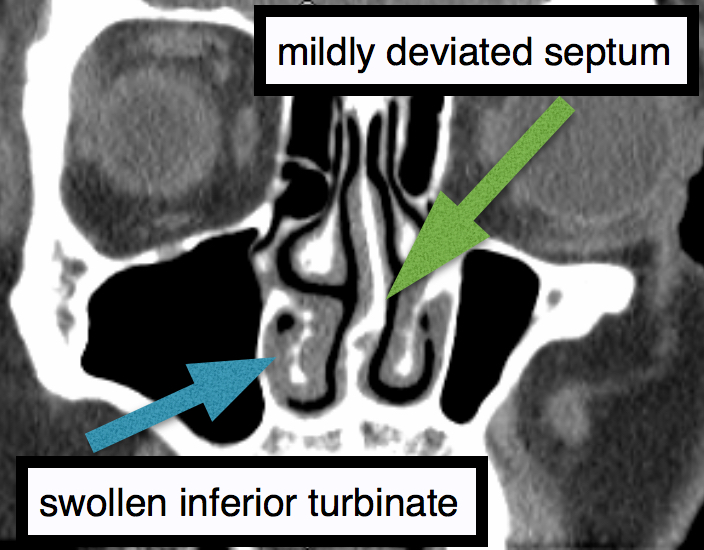 The septum is what divides the left and right sides of the nose, and a deviated septum is one of the most common causes of nasal obstruction. Dr. Rodwell has a clear understanding of the functional aspects of the nose and sinuses from his training in Ear, Nose, & Throat surgery after medical school before he sub-specialized as a facial plastic surgeon. Repairing a deviated septum is something that he does very frequently, and the procedure is often combined with a rhinoplasty.
Trauma to the nose is often the cause of a deviated septum, but many people simply develop a crooked septum as they grow.
A deviated septum is not the only area that can cause nasal obstruction. Enlarged turbinates inside the nose or a weak nasal valve are some common areas that might need to be treated at the same time as septoplasty.
It's like I forgot what it felt like to finally feel normal again – Melissa P.
Why Consider Deviated Septum Surgery?
Septoplasty can:
Improve breathing through the nose
Reduce snoring and sleep apnea
Allow the sinuses to drain better
Help straighten a crooked nose
Dr. Rodwell's Approach to Septoplasty
The goal is to improve quality of life and get relief from chronic nasal obstruction. Deviated septum repair (septoplasty) is a surgery performed in the operating room under anesthesia. Dr. Rodwell frequently combines this surgery with a submucosal turbinate reduction to get the best improvement in breathing through the nose.
In many cases, a deviated septum also leads to a crooked or curved appearance of the nose which may be improved by straightening the septum.
Dr. Rodwell can help you understand if a rhinoplasty might also be needed at the same time as deviated septum repair to achieve your goals.
What to Expect After Deviated Septum Surgery
Septoplasty is typically covered by insurance and is an outpatient surgery.  You can go home the same day after septoplasty as long as someone is available to drive you home. Dr. Rodwell will provide you with full post-op instructions.
Most people choose to take just a few days off from work or school. Internal stitches are used but will dissolve. Dr. Rodwell avoids using any packing in the nose for the majority of patients, but occasionally soft septal splints may need to remain in place for a few days in some cases of deviated septum repair.
You can take pain medication to reduce discomfort as needed. Septoplasty by itself does not cause any external bruising or swelling, but you will have congestion and swelling inside your nose during the first few weeks of recovery.
If you are considering deviated septum repair in Charleston, contact Dr. Rodwell today to discuss your candidacy.