Fillers
Facial Fillers Charleston, SC
Dr. Rodwell
is an experienced injector skilled in using a variety of different
injectable
dermal fillers
.  He has been invited to share his techniques and insight with other providers at several national and international conferences. Dr. Rodwell is also a peer to peer trainer teaching other doctors and medical professionals on filler safety as well as basic and advanced techniques as part of the Galderma Aesthetic Injector Network (GAIN) from the company who makes Dysport, Restylane, and Sculptra.
Injectable fillers are a great way to temporarily combat the signs of aging without surgery. Dr. Rodwell provides dermal filler injections to restore lost volume to the face and neck. Most of these facial fillers are made of hyaluronic acid, which is a natural substance already found in the body.
During your consultation and examination, Dr. Rodwell will help you carefully analyze and understand all of the features of your face as well as understand how the aging process has caused changes.  This is the most important step before considering fillers.
Dr. Rodwell believes that all patients deserve an approach that carefully considers their face as a whole.  You have to analyze multiple areas and understand how they balance each other.  Gone are the days of chasing isolated wrinkles with fillers and look overly puffy and artificial.
He will then determine whether a specific filler such as Restylane or Juvederm or a combination of fillers will help you look the way you want.  There are many choices of fillers available, and they each have their own unique benefits.
For wrinkles that are caused by muscle activity, such as vertical frown lines between the eyebrows and horizontal forehead wrinkles, read about Botox and Dysport.
Dr. Rodwell's skill and attention to detail is special, and I consider myself lucky to have chosen a time when he was available to touch my life.
Why consider Fillers?
Juvederm Ultra can:
Improve nasolabial folds from the nose to the mouth

Provide fullness to the lips
 Restylane Lyft and Juvederm Voluma XC can:
Support the skin's structure
Provide volume and definition around the cheekbone
Lift and improve the appearance of the jowls along the jawline
Enhance the appearance of the nose with a non-surgical rhinoplasty
Restylane and Restylane Defyne can:
Improve nasolabial folds from the nose to the mouth
Improve marionette lines from the mouth to the bottom of the chin
Add volume to tear troughs (hollowed under-eye area)
Restylane Silk and Restylane Refyne can:
Provide a soft natural improvement to the lips
Improve superficial fine wrinkles
Add volume to the tear troughs
Dr. Rodwell's Approach to Fillers
An eye for what looks good and a conservative approach to the use of fillers are incredibly important to avoid an overdone and unnatural look. In the hands of an expert injector like Dr. Rodwell, all of these fillers can provide natural-looking results that help you look younger and more refreshed in a way that will not be obvious to others.  He will examine your facial anatomy and the condition of your skin to determine the best filler selection, placement, and amount to contour a more youthful look.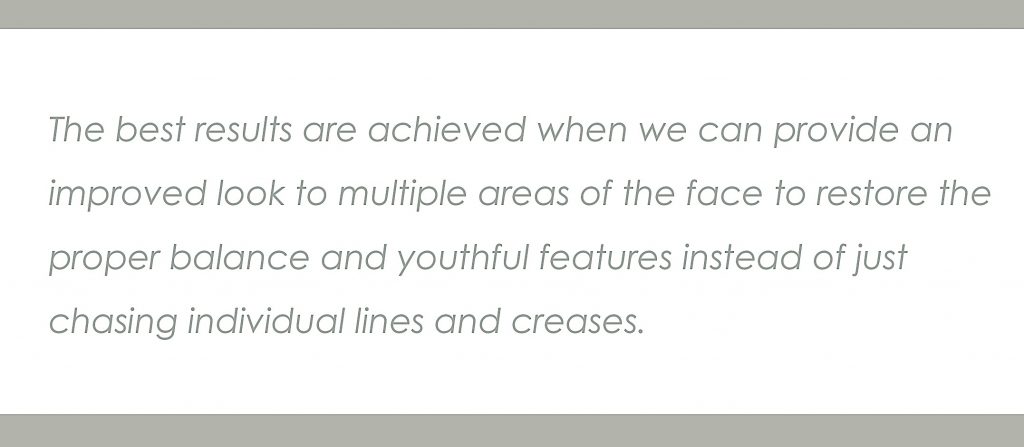 Dermal fillers are also sometimes used to enhance the results of facial plastic surgery, such as a facelift, necklift, brow lift, eyelid surgery, or rhinoplasty (nose surgery). These fillers can often smooth residual lines and wrinkles after these procedures.
What to Expect After Fillers
Lidocaine is included in the dermal filler formulas to numb the injection sites somewhat, but an additional topical numbing cream is also applied in most cases. You will need to be in the office for a period of time for the cream to take effect, and then the injections themselves will not take long. You can go home immediately after.
While no downtime is required after filler injections, many patients experience mild swelling and possibly some bruising that can last for a few days.  You should avoid exercise for 24 hours.
Results are seen immediately but continue to improve over the first 2 weeks.  How long a filler lasts depends on a variety of factors including the type of filler material, where it is placed, and each individual patient's response as the filler is slowly reabsorbed over time.
If you are considering injectables / fillers in Charleston, contact Dr. Rodwell today to discuss your candidacy for fillers or other injectable treatments. Dr. Rodwell is highly trained in cosmetic and reconstructive surgery, along with non-surgical facial treatments.
Are dermal fillers long-lasting?
Yes. Dr. Rodwell uses both Restylane and Juvederm fillers, which in some cases may offer lasting results for up to 12-18 months.  Hyaluronic acid fillers take their time to break down and absorb into the skin to deliver long-lasting results. 
Can dermal fillers be removed?
Yes. Both Juvederm and Restylane fillers can be undone using an injection with a medication called hyaluronidase. This product disperses hyaluronic acid to quickly reverse the volumizing effects.
How can I determine which dermal filler is right for me?
Different fillers accomplish different results. At your consultation with Dr. Rodwell, he'll discuss a customized treatment plan that's designed specifically for you. You may seek one or more of these benefits:
Increase hydration to your neck, face, and décolletage
Smooth over fine lines on your forehead and the lower face
Reduce moderate lines from your mouth to chin and from the nose to your lip corners
Remodel your chin and cheeks for more definition
Minimize scars
Plump up lip volume
Restore facial volume.
Each of these goals is addressed with a specific filler or combination that is tailored to the intended outcomes.
How soon will my results be visible?
Visible results should be apparent immediately with a facial rejuvenation that looks bright and natural.  The fillers typically look even smoother after 1-2 weeks.
Are the filler injections painful?
Many patients find injectable filler treatments highly tolerable, although some patients choose to have a numbing cream applied first.  Most of the fillers also have lidocaine in their formulations for additional numbing.
What's the difference between a facial filler and neuromodulator?
There are two types of wrinkles and lines: dynamic and static. Static wrinkles are formulated with age and exposure to environmental factors like sun and wind. Dynamic are wrinkles resulting from facial expressions. Dermal fillers add volume, while a neuromodulator like Botox or Dysport will restrict muscle movement to reduce expression lines like crow's feet.