Embrace RF / FaceTite
One of the number one areas of concern that everyone has as the aging process takes its toll is the laxity and sagging that develops around the jowls and the upper neck.
For decades the only reliable option for improvement was surgery. In recent years, various non-surgical devices have been used to try to tighten these areas, but with groundbreaking advancements in technology, we now have an option that surpasses everything else previously available and does so safely.
EmbraceRF is a combination treatment utilizing two procedures: FaceTite (or AccuTite) + Morpheus8
FaceTite is a minimally invasive procedure that uses a small cannula to deliver bipolar radiofrequency energy to gently heat and tighten the skin and underlying fat in the lower face and neck.
AccuTite uses the same technology as FaceTite in an even more compact and precise handpiece giving the ability to accurately target delicate areas of the face.
Morpheus8 RF microneedling uses the same radiofrequency energy but delivers it closer to the surface using an adjustable depth microneedling device.
The combination of the two procedures allows for a truly customizable solution to address sagging and excess fat. With this technology, we can contour and lift in ways that were not possible in the past.
Why Consider EmbraceRF?
AccutTite can:
Tighten loose skin of the neck and jowls
Shrink and tighten nasolabial folds
Tighten skin for a non-surgical eyelid lift
Reduce the appearance of malar festoons
Lift the brow
FaceTite can:
Tighten loose skin of the neck
Reduce jowls and redefine the jawline
Eliminate a double chin
Enhance the results of liposuction
EmbraceRF procedures can:
Provide more comprehensive results than FaceTite alone
Dramatically improve skin quality
Reduce fine lines and stimulate new collagen
Tighten the jawline and neck
Maintain long term results after facelift and necklift surgery
Even though I still feel like I'm thirty, I didn't need to look thirty! I just wanted to do what I could in order to age gracefully.
– Susan T.
Dr. Rodwell's Approach to FaceTite and EmbraceRF
Dr. Rodwell specializes in facelift and neck lift surgery. In many cases, those surgical procedures will be the most effective treatment option. There is no substitute for a well-performed facelift. However, not everyone wants or needs surgery to achieve their specific goals.
You and Dr. Rodwell will discuss your concerns and determine the best plan for your unique needs. Using a combination of different treatment depths to address skin laxity, fat remodeling, and fat reduction gives the best overall results. For this reason, most people choose to have the EmbraceRF treatment which is a combination of FaceTite as well as Morpheus8 radiofrequency microneedling performed during the same procedure. Neck liposuction can also be included.
The Embrace procedure is safely performed in the office using a local anesthetic. Most patients choose to take some anti-anxiety medication or use our ProNox machine (laughing gas) to feel more relaxed during the procedure.
The FaceTite procedure involves a few small entry points that are typically small enough that no stitches are needed. They are hidden under the chin and behind the earlobes.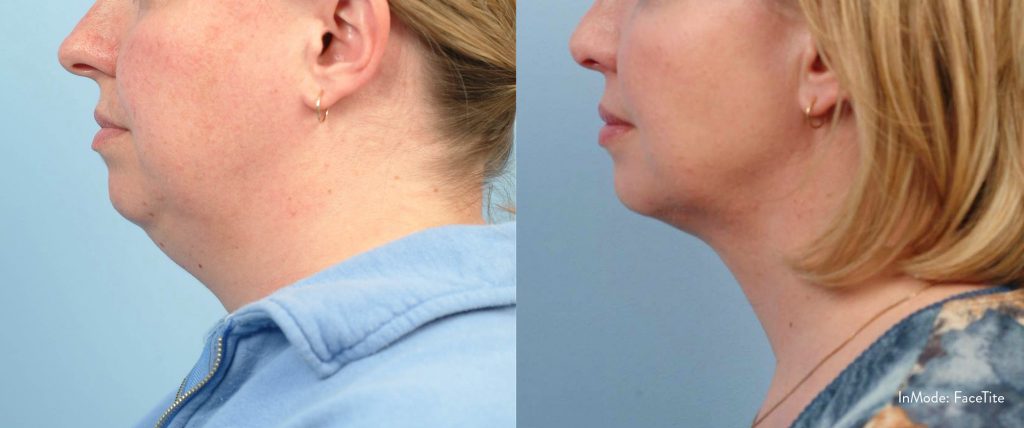 What to Expect After FaceTite
Dr. Rodwell will provide you with full instructions to minimize downtime and make sure that you heal quickly from your procedure. Most people choose to take several days off from work or school.
Light compression and neck support bandages are placed after the procedure and worn for 24 hours then intermittently over the next one to two weeks. During this time you should limit exercise and other strenuous activity.
There will be some soreness, but overall discomfort is mild. Some swelling is to be expected as well as the possibility of mild bruising during the first week. This varies depending on the type of procedure being done. You can take pain medication and apply cold packs to reduce discomfort. Keeping your head elevated will also decrease swelling.
Results from EmbraceRF procedures take some time to fully develop. There is some mild inflammation which needs to resolve, then increased collagen growth will provide further tightening and enhanced results over the next several months. Patients typically see their best improvement four to six months later, but early improvements can be seen within the first few weeks. The results are permanent, but the aging process does continue. For that reason, a customized long-term treatment plan can be designed to incorporate other options to maintain the best results possible.
If you are considering FaceTite or EmbraceRF in Charleston, contact Dr. Rodwell today to discuss your candidacy.