Facelift / Revision Facelift
Facelifts are among the most popular plastic surgery procedures for a good reason – when done well, they can turn back the clock and help people look years younger. Dr. Rodwell has extensive experience providing patients with natural-looking facelifts and revision facelifts to correct a previous unsatisfactory result.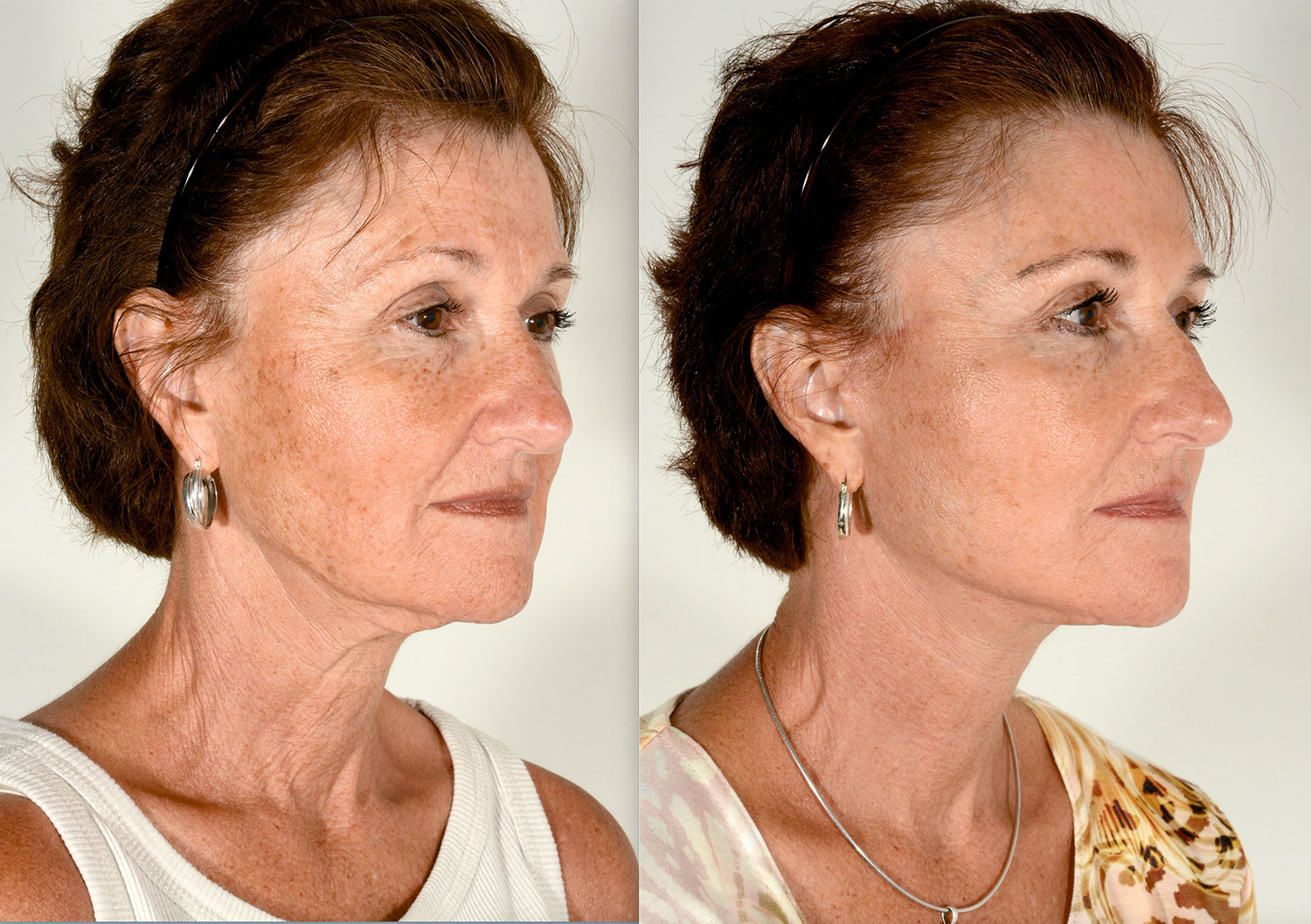 Dr. Rodwell is one of only a few surgeons in the region offering a deep plane facelift for his patients. This technique has been proven to provide natural, long-lasting results and remains a beneficial option for patients requiring a revision facelift, but he is also trained in a variety of SMAS facelift techniques and uses these to customize a procedure that is the most appropriate choice for each patient.
A facelift involves more than just tightening the skin. The tissue of the face must be contoured as well for both aesthetics and function. For this reason, it is important to choose an expert surgeon for your procedure.
My only regret is that I wish I would have done this sooner!
A facelift also provides improvement to the neck, and for most patients actually includes a necklift to improve the cheek, jowl area, and neck at the same time. Many patients also choose to have another procedure at the same time as a facelift, such as a chin implant to further improve the jawline, or eyelid surgery or a browlift to simultaneously address signs of aging on the upper portion of the face. Dr. Rodwell might also recommend injectables such as Botox or dermal fillers after a facelift in order to smooth residual fine lines.
Why consider a Facelift / Revision Facelift?
A facelift can:
Tighten the lower two-thirds of the face, including the jowls and jawline
Smooth deep wrinkles
Correct "sunken" cheeks
Improve loose skin and muscle bands in the neck
A revision facelift can:
Correct the effects of an unsatisfactory facelift
Improve unsightly scars
Provide a more natural appearance
Dr. Rodwell's Approach to Facelift / Revision Facelift Surgery
Besides deep plane facelifts, Dr. Rodwell is trained and experienced in several other variations of SMAS-based facelifts, including limited incision facelift techniques. As a result, he can tailor the procedure to the specific needs of each patient. Generally, a facelift involves the removal of excess tissue, after which the tissue is redraped for a tighter but natural look.
SMAS refers to the layer of tissue between the skin and the functional structures of the face. Manipulating this layer provides support to the areas that have aged over the years and keeps tension off of the skin, which avoids the over-pulled look. Incisions can often be placed in the hairline or discretely around the ears.
During your consultation, Dr. Rodwell will listen to your concerns and will provide his recommendations for your surgery. He will tell you which customized technique he would like to use to provide you with the best result.  Most patients considering a facelift or necklift benefit greatly from other procedures such as a browlift or eyelid surgery to provide improvement to all areas of the face, resulting in a more natural result.
What to Expect After a Facelift / Revision Facelift
Most patients take 2 weeks off from work to recover from a face lift. Bruising, swelling, and tenderness should be improved by this time, although there may be some residual effects for a few more weeks. Sleeping with your head elevated will reduce swelling, and you can take pain medication to manage any mild discomfort.
Dr. Rodwell will monitor your progress, and he will remove any external sutures during one of your follow-up examinations. Facelifts take a few months to fully settle, but you will look younger right away.
Out of a profound respect for the privacy of our patients we do not publish a gallery of before and after patient photographs on the internet. Representative photographs from actual patients are available for review in the office during your consultation.
If you are considering a facelift or a revision facelift in Charleston, contact Dr. Rodwell today to discuss your candidacy.