Rhinoplasty
We tend not to notice someone's nose unless it is misshapen or out of proportion. Then, it can detract from other attractive facial features.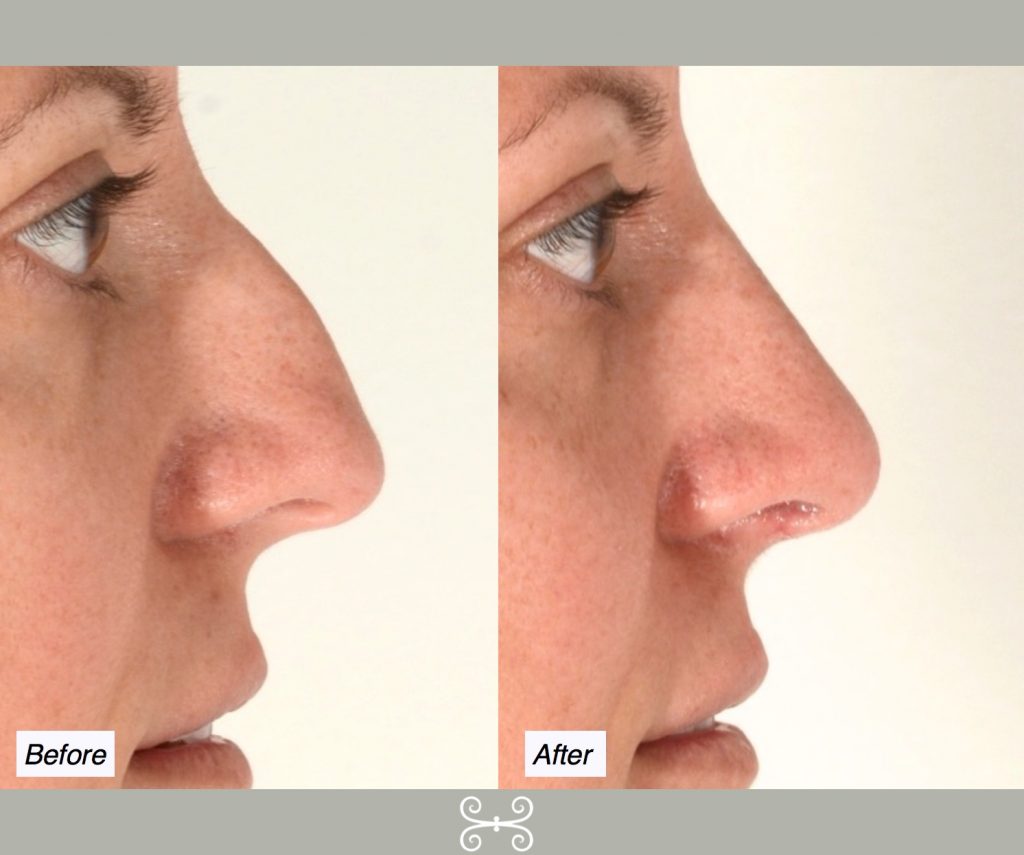 Rhinoplasty or nose surgery can reshape the nose for a more proportionate size and contour, either reducing the size of your nose or rebuilding portions of the nose's structure through the use of cartilage grafts.
Dr. Rodwell has performed many successful rhinoplasties, and he studied with Dr. Calvin M. Johnson, Jr., the premier surgeon who first popularized many of the open structure rhinoplasty techniques still used today.  These techniques help improve the appearance but also can prevent long term problems with collapse and loss of support.  Concurrent with a cosmetic rhinoplasty, Dr. Rodwell can perform nasal surgery to correct breathing difficulties. These procedures can include a turbinate reduction, nasal valve repair, or septoplasty to correct a deviated septum
Some patients choose to have a facelift at the same time as rhinoplasty for an enhanced overall look, while others also have a chin implant to provide a better profile to balance the nose.
I absolutely love my nose. I feel so much better when I look in a mirror and see myself in pictures.
Why consider Rhinoplasty?
Rhinoplasty can:
Reshape the nose for an improved profile
Shorten or narrow the nose
Refine the appearance of the tip
Straighten a crooked nose
Smooth a bump or hump on the bridge
Repair injuries or a broken nose
Reduce the size of the nostrils
Increase the size of the nose for better facial proportions
Dr. Rodwell's Approach to Nose Surgery
Nose reshaping surgery is different for every patient. Dr. Rodwell will evaluate your anatomy and determine the best surgical plan to provide the results you want. It is important to spend time listening to your goals and help to educate you on what can and cannot be achieved with rhinoplasty surgery.
Dr. Rodwell performs open rhinoplasty in which a small incision is made on the columella, the skin between the nostrils. The structure of the nose is then reshaped to reduce the size, provide support, and better define your features.
These fundamental principles of the technique known as "open structure rhinoplasty" help to avoid the pinched and collapsed look with the telltale signs of a bad nose job that were very common in the past and are, unfortunately, still frequently seen.
Dr. Rodwell sometimes augments the nose reshaping with the use of filler injections after the initial healing period. This technique provides his patients with an enhanced outcome. In select cases, a "non-surgical nose job" using only the injections and no surgery at all may be sufficient to provide you with the look you want. This can only be determined, however, after Dr. Rodwell has spoken to you about how you wish to look and has examined your facial anatomy.
Whatever methods are used, the goal is to provide you with a nose that brings balance to your other facial features without drawing attention to itself.
What to Expect After Rhinoplasty
Some pain, swelling, stuffiness, and intermittent bleeding is to be expected after rhinoplasty. Most patients take 1 week off from work for recovery, but Dr. Rodwell will provide full post-operative instructions.
You will be given pain medication, and a small splint with tape on the outside of the nose may be necessary for a short time to help your nose maintain its new shape during the healing process. Dr Rodwell performs his nasal surgeries without having to leave uncomfortable packing inside the nose.
The final result of your rhinoplasty will gradually present itself over the several months after your surgery.
If you are considering rhinoplasty in Charleston, contact Dr. Rodwell today to discuss your candidacy.